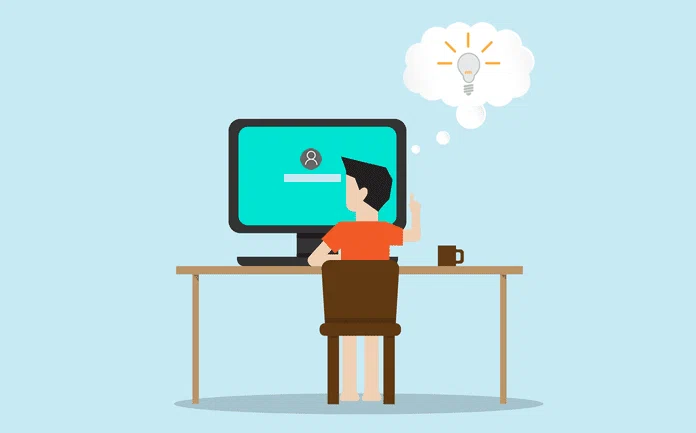 In our daily life, there is nothing unusual about forgetting the password, because we have to memorize a large amount of data every day, which may cause a "Brain fart". Of course it will also be very frustrating as you will lost the access permission to your computer. If you don't have a pre-created password reset disk then it will be very troublesome to recover your Windows password, maybe you even need to reinstall system, but that's the last resort when there is no alternative.
But good news is that there are some paid or free Windows password recovery tools out there that can be considered as solution to remove login password and and avoid reinstalling Windows. Based on this purpose, I will carefully select 11 paid and free Windows password recovery tools and make a depth testing so that people can clearly know what are the pros and cons of each tools, hoping this reviews can help you make the optimal decision when you need it.
Comparison of Test Results
In our testing, we found each Windows password recovery tool has its own advantages and disadvantages, most of them use the same principle, so we only select top 4 for comparison.
Test environment and equipment:
2 HP computers running Windows 10 (64-bit), 1 Dell Computer running Windows 10 (32-bit).
1 Lenovo laptop running Windows 7 (64-bit), XP computer.
3 USB drives (Kingston, SanDisk, Toshiba), 2 DVDs, and 1 CD.
| Items | | | | |
| --- | --- | --- | --- | --- |
| ISO File | Additional download | Not required | Additional download | Not required |
| ISO Writing | USB/CD | USB/CD/DVD, External Hard Drive | USB/CD/DVD | USB/CD |
| Account Type | Local Account | Local Admin, Guest, Microsoft, Pin and server. | Local account | Local admin account |
| Support OS | Windows 7/XP/Vsita | Win 10/8/8.1/7/XP/Vsita/Servers | Windows 7/XP | Windows 10/8/8.1/7/XP |
| Difficulty | Difficulty | Very Easy (GUI) | High difficulty( No GUI) | Easy (GUI) |
| Cost | Free | Free trial, lifetime use, free upgrade | Free | Paid |
| Success Rate | 68% | 98% | 77% | 81% |
1. Ophcrack
Ophcrack has always been considered as one of the most popular free Windows password recovery tools so far, it's free Windows program that can crack hash files on Windows SAM file by using Rainbow table. Ophcrack comes with free Rainbow table that could allow you to recover 4 digital password within a short time, there has a 85% success rate in recovering short and easy password. But if you want to recover the password which contains specific symbol or the longer is more than 4 digital, then you need to purchase Rainbow table from Objectif Securite.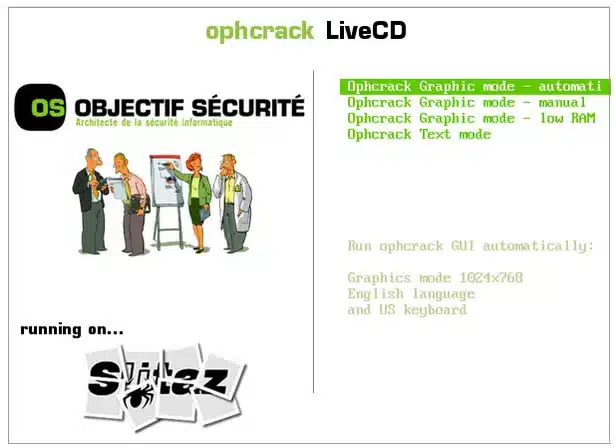 Ophcrack can locate the SAM file and directly analyze all hash files in it, finally, get the right password. It's not hard to use ophcrack tool to recover your lost password, what you need to prepare is a DVD or USB flash drive, then download the Ophcrack ISO from its official site and burn it to a USB or DVD with some free burning tools, then you need to set your PC boot from USB or DVD/CD in the BIOS. Once the program loaded, it will start to recover your Windows password, it will take long times based on your password length, complexly and computer performance. The software only supports Windows 7. Windows 10 is not supported.
Views:
1) Free table only can recover 4-legnth password.
2) Only support Windows 7/XP/Vista, Win 10 is not supported..
3) The file size is rather large.
WinPassGo
WinPassGo software is the first paid Windows password recovery tool we'd like to recommend in my article, this is an excellent software that worth your try. It comes with great graphical user interface, which makes the entire software easy to use. Unlike the Ophrack and NTpassword, the advanced extraction algorithm can directly decrypt the SAM file including the internal hash table, this make it possible for user to reset the forgotten password to new one instead of using "brute force attack". it was more a Windows password manager tool than a password recovery tool, because beside of password reset, it also bring users with the functions: Password Remove, Create Account and Delete Account.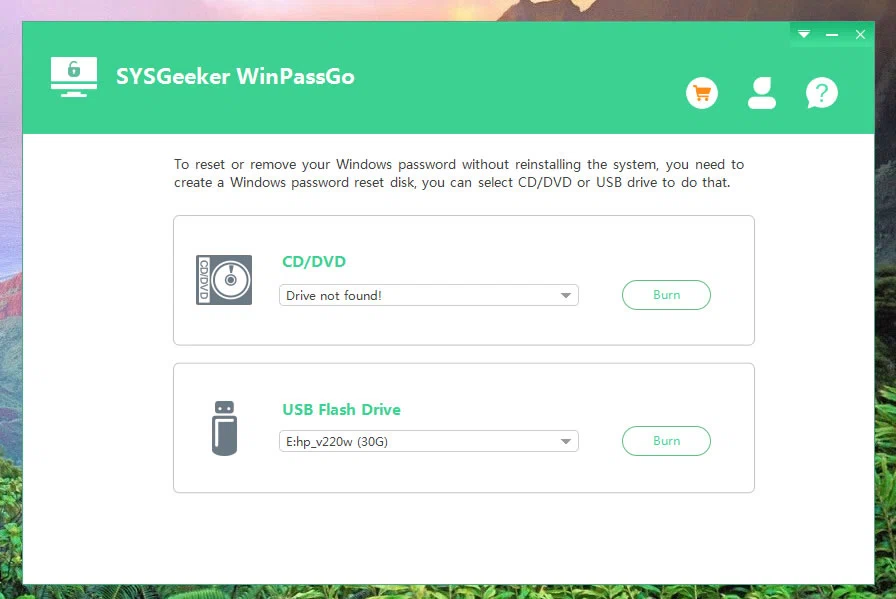 It supports both UEFI and MBR boot, so whatever your computer's BIOS is, the created bootable USB will be booted on your computer. When you created a bootable password reset disk from a USB or DVD/CD, insert it to your locked PC then change the boot sequence in the BIOS to enable Windows to boot from USB, once the program loaded, it will display all accounts created on your computer then select which account you want to reset and remove. That's all! We've tried it with Windows 10, 8, 7, and Windows server 2016 R2, and was successful each time.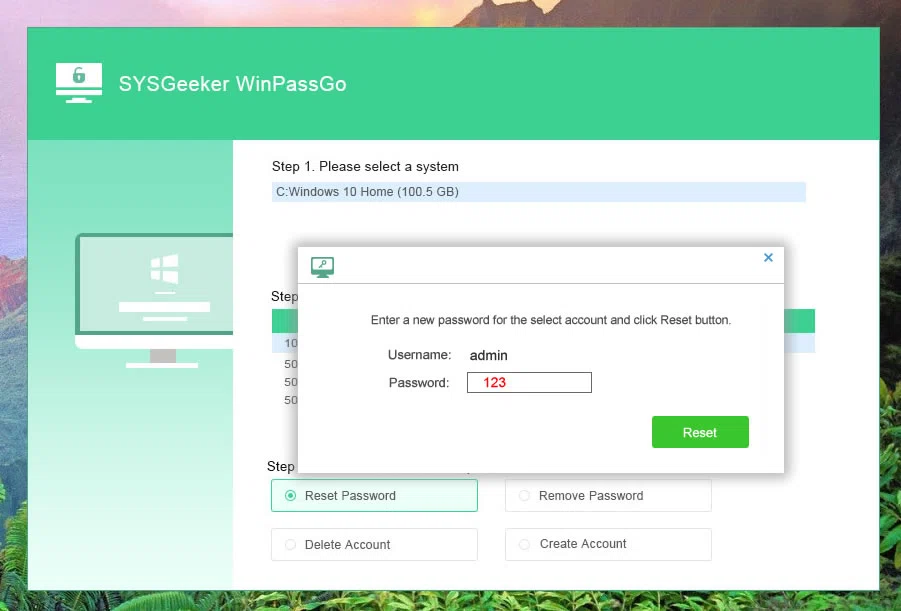 Views:
Deletes the password completely.
Allows you to reset a new password for your accounts, like the way you do it in Control Panel.
Also need a USB or DVD/CD to create a reset disk.
The success rate reachs to 99%.
Constantly updates. Very suitable for novice users.
The Offline NT Password & Registry Editor
The second one I want to recommend is The Offline NT Password & Registry Editor, which is also another open source and free Windows password recovery tool. What is the biggest difference with ophrack is that ophcrack uses the "Brute Force attack" to crack the password while Offline NT Password & Registry Editor delete the password directly instead of recovering, what's more, it also enables you to reset a new password for your computer and the usage is roughly the same as ophcrack, you also need to prepare an USB or DVD/CD for creating a bootable disk so that the program can be loaded in successfully in the WinPE.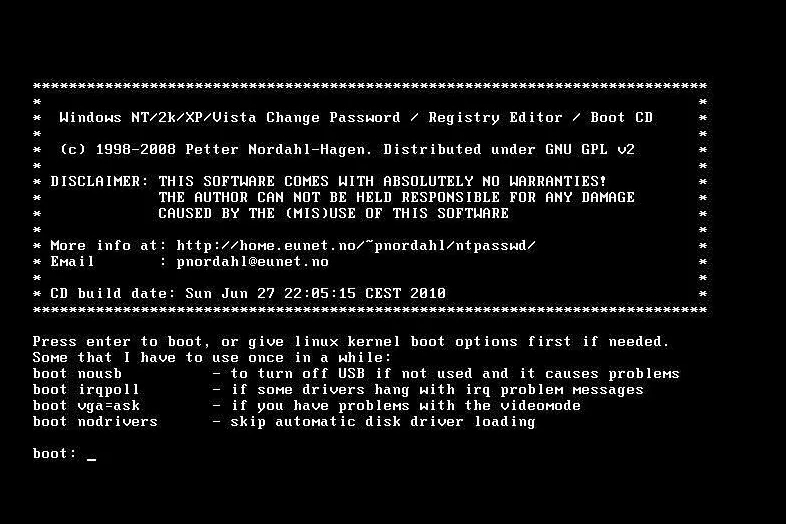 The only drawback is that it's a command line-only tool without graphical interface, the complex process will confuse some computer novices, you have to type lots of command lines to perform password deleting actions. We've tested it on Window 10 , 64-bit and Windows 7, 32-bit. It really can be able to delete the user password without occurring any errors.
Views:
Must make a bootable disc or flash drive to run the program.
Command line-only and too difficult.
Hasn't been updated since 2015.
Failed to delete password on Windows 10 Pro edition, 64-bit.
John the Ripper
John the ripper is another free and open source Windows password recovery tool that based on dictionary attack method, to put it simply, it's brute force password cracking, and the operation is complicated and time consuming. The more complex your password is, the longer it will take, it can't crack 8+ characters in length because it may take weeks, months and years. It fully supports current encryption algorithms including DES、MD4、MD5. it's mainly used to crack the simple system password for Unix/Linux. This program also has the ability to recover administrator password from Windows, but it also runs in command-line without interface, so, it has also a risk for the computer novice. This free version only provides you the source code, which requires users to compile it, that's too difficult for novices, however, the Pro version is only available for Linux and macOS, the price is $39.95, with a seven-day money-back guarantee.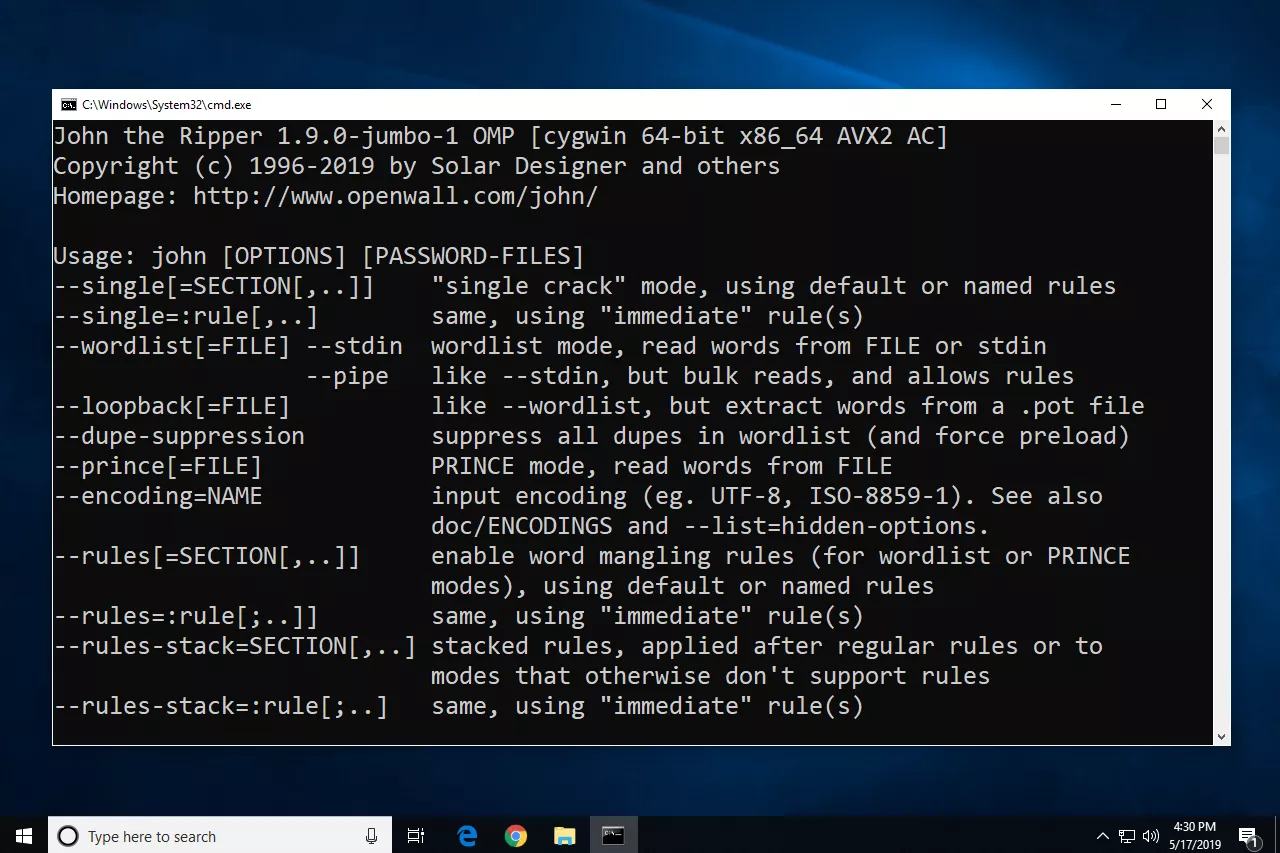 In my test, I found it has high percentage of success in recovering 4 digital password on a windows 10 and Windows 7 computer. But when i try to recover 8+ password, it was unable to find the password after running 2 days, thenI gave up!
Views:
Command line-only.
The wordlists required to use the program are paid.
You need Windows access to use it .
Only can recover simple and short password.
Cain & abel (Free)
Cain & abel is a well-know and free Windows system tool, which provides a complete, integrated set of tools that lets user to crack encrypted password, analyze routing protocol, network sniff, network deceive,etc. What's more, it can help you recover the various of passwords easily through the network sniff function. By using dictionary attack, it can crack encrypted passwords, obtain wireless network keys and recover the cached passwords from browser. What's the difference with Ophcrack is that Cain & Abel requires an administrator account to access Windows. But currently it only supports Windows 7, XP, 2000 and NT, not Win 10.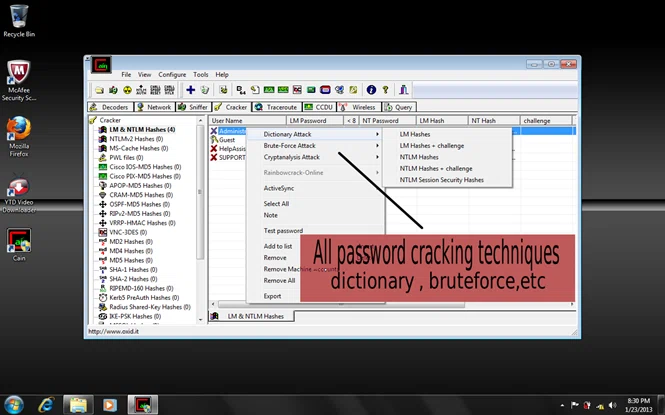 In our test, we found Cain & Abel was able to successfully recover 7-character password from a Windows XP computer with only 3 hours, it's faster than John the Ripper, but more importantly, it much depends on the strength of the dictionary, so help you have a powerful dictionary file.
Views:
Provides lots of other useful tools.
Only works with Windows XP and older OSs.
No updates for a long time.
Lazesoft Recover My Password
Lazesoft Recover My Password is another easy-to-use and paid Windows password recovery tools that can be able to unlock the locked or disabled out user accounts easy and instantly. Like the WinPassGo, it also walks you through the steps of creating a bootable password reset disk from USB/DVD/CD to reset your password or recover your product key, so you're also required to prepare an USB and another working computer for creating a password reset disk. There is no need to re-install anything and no need to reformat. This tool is also compatible with most Windows OS Editions like Windows XP/Vista/7/8, 32- bit. But in my test, it didn't succeed in recovering admin password on a Windows 10 64 bit version. I don't know why! For personal use only, you can use the non-commercial edition, it's totally free!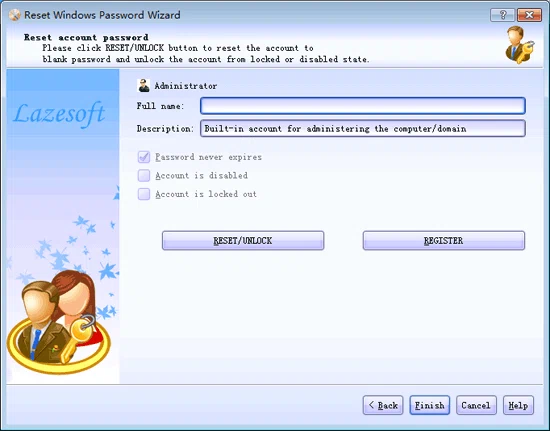 Views:
Must change the boot from different source which make inexperienced users feel daunting.
Only free for non-commercial use.
Only free for non-commercial use.
Supports 32-bit and 64-bit Windows 7/8/XP.
iSeePassword Windows Password Recovery Pro
iSeePassword Windows Password Recovery Pro is a single-function program but has high success rate of removing your Windows login credentials. As with most Windows password recovery tools, the application also removes the login credentials by creating a bootable CD or USB flash drive, giving you option to reset the old password to blank and you can access to your account without having to reinstall system and losing the data. In addition to resetting the password, I found it also provides an option to creating new account for your system, the only added account can also login into your Windows. The instructions and screenshots explain how to create and use bootable reset disk. in our testing we found this application can boot the UEFI-based computer and display all accounts, which I thought was incredible, because most of Windows password recovery tools doesn't support the latest UEFI boot mode, instead they supports MBR booting only.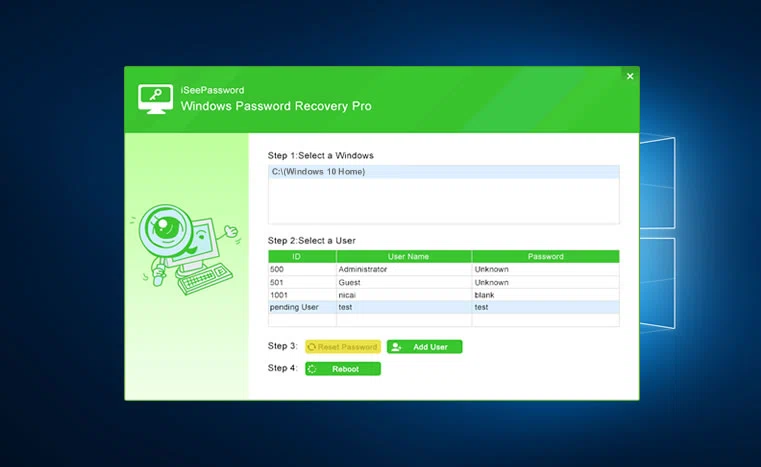 Like most tools, it's compatible with Windows 10/8.1/8/7/Vista/XP workstations. Works on all laptops including HP, Toshiba, Dell, IBM etc. The simple and intuitive interface makes it easy for the inexperienced users to clear your Windows password without any technical assistance.
Views:
Easy to use and high success rate.
Essentially automatic password reset tool.
No prior knowledge of password required.
Large download size.
Trinity Rescue Kit
Trinity Rescue Kit is a free live Linux distribution that focus on cracking Windows password and repairing operations on Windows machines, it also comes with a set of custom tools that can be used to recover the deleted files, clone Windows installation, perform anti-virus scans, read the NTFS partition and edit the partition configuration. It's free and open source, small download size, but It's a command-line only Windows password recovery tools, which may not be a suitable solution for many novice users.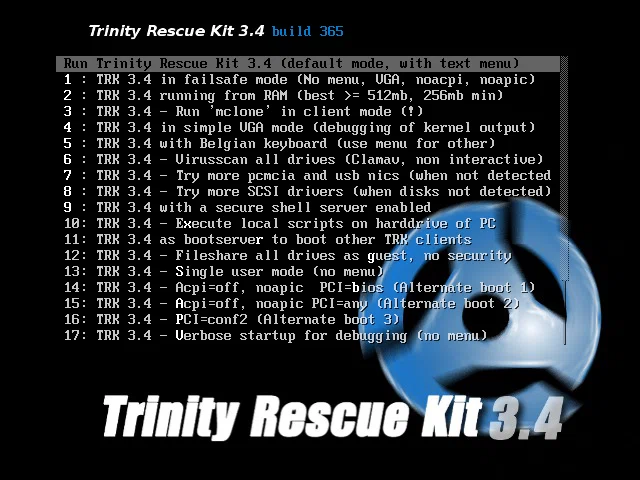 Views:
Command-line only. No graphical user interface.
Delete windows password.
Many extra features
PassFab 4WinKey
PassFab 4 Winkey program is a very useful Windows password recovery tool claiming that it can promises users the ability to unlock their Windows system that forgot password, in our testing we found it really removed the admin password from a Windows 7 Home 32 Bit version, this makes a good impression to me. This tool was divided into 4 edition for selling, Standard, Professional, Enterprise and ultimate, However, the Standard edition can't let me to create a bootable reset disk with USB drive, instead the the CD only. If you want to use USB to create a password recovery then you must upgrade to Professional edition, which will cost $29.95.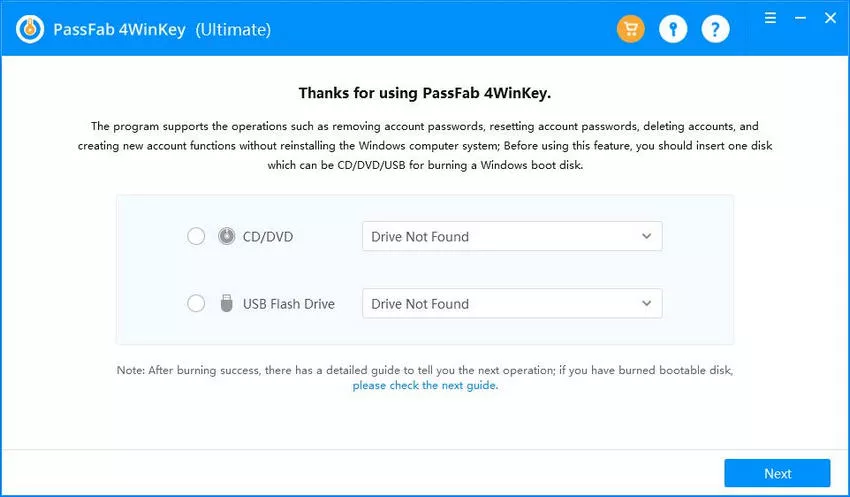 Official website says that it can reach to 100% success rate in recovering lost Windows password, in theory, that was hyperbole I think, but the no data loss is all too real. It looks simple and easy to use, it should be able to run normally on almost all computers. If you forgot any accounts password on Windows, this this program can regain the access to your Windows, save you a lot of time and help you avoid serious frustration.
Views:
Easy to use and high success rate.
Standard edition doens't support CD/DVD, need to upgrade.
Failed to boot UEFI-based computer.
Hash suite
We know most operating system like Windows uses numerous cryptographic hash functions, which can be able to convert the password information int a complicated hash that cannot be easily cracked with eyes. However, Hash Suit is a great auditing program that can help you get the Windows password hashes (LM, NTLM). Hash Suite tool cannot directly INVERT the hashes for obtaining the right password, instead, you have to use the trial and error approach, which is used by the hash suite, generally, we can crack ANY valid LM hash password by brute-force method. For the English-phrases password, Hash Suite offers you with an option "phrase generator" that can recover your password, but obviously it will takes a long long time to guess the entire password. In a word, Hash suite is only for the simple and short password.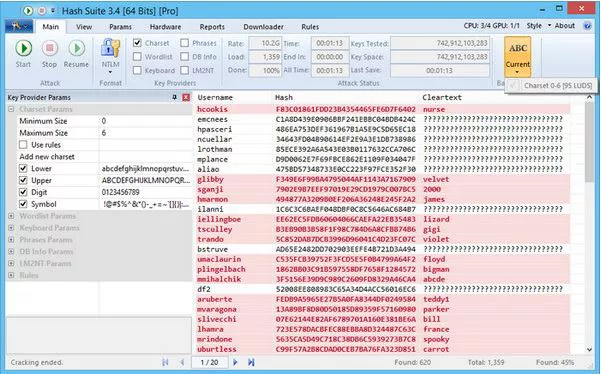 Views:
The success rate is low and only for easy and short password.
Quite time-consuming.
Can't find the passwords that are a mix of Numbers, letters and symbols.
PassGeeker for Windows
The last one we tested is PassGeeker for Windows on a HP with running Windows 10 Pro 64-bit. It is a powerful Windows password recovery software designed to help user retrieve admin and user passwords from a locked Windows PC. Like some other tools, it actually resets or removes the passwords instead of "brute force", this way, you can regain your access to Windows within 5 - 10 minutes. It supports creating a password reset disk from USB , DVD, CD, and pen drive and it comes with a in-built ISO burner which can be able to directly write to your USB, so, there is no need to download additional ISO files and ISO burn tool, once the PassGeeker loaded on your screen, then all the user accounts you have created on device are visible, then you can reset or remove.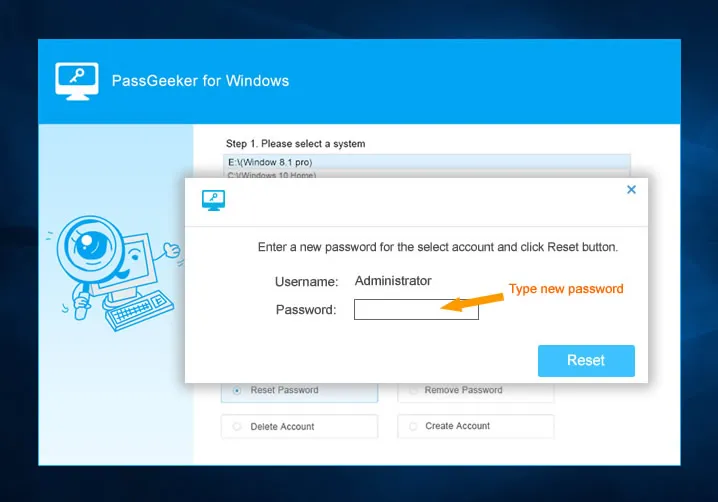 Views:
High success rate for comlex and long password.
Supports all Windows OS and Windows server 2016.
NO need to download ISO file and ISO burner tool.
Conclusion
There is nothing unusual about forgetting a password, but you should master an effective solution to the cope with. In theory, all the paid and free Windows password recovery tools mentioned above have the different success rate of regaining access to your locked Windows PC, it should be able to help you avoid reinstalling the operating system and avoid losing important data. Some of them use brute force method to crack the password, and some could reset or remove the password directly and some is command-line only tool. Choosing a right tool should depend on your account type, password difficulty and the actual situation.
But the best way to avoid reinstalling system is that you should create a Windows password reset disk before you forgetting password. If you have other methods or tools that we missed here, please don't be shy to share with us.