When you are working with sensitive information, it is important that you protect it. And what can be a better way than to protect it with a password. You can protect your computer system with a password, your fingerprint, or even your facial features using Windows Hello. But what about PDFs?
Many important documents are usually shared as PDFs. I even got my appointment letter for my last 2 jobs as PDFs, these were digitally signed by my employers. They are as good as any legal document. So, it does not need to be mentioned how important it is to secure a PDF using a password. But we have to remember so many passwords each day that it is easy to forget them. What if we forogt a password to an important PDF and have you tried to unlock a PDF password on Mac?
Here is A Summary of Our Key Findings
1. 72% of companies used open password to protect the sensitive data from unauthorized viewing.
2. Only 11% companies solely user permission password to restrict the editing and printing.
3. The two largest PDF software vendors in the world, Adobe and Foxitsoftware and they have market shares of 75% and 20%, respectively.
4. In our research, we found only 68% users are inclined to choose Adobe PDF to encrypt an important PDF file, while 30% of users encrypt their PDF file using other third party encryption tools.
5. Password length and encryption tools are the most common issues impacting the success rate of password cracking.
6. 92% of users are accustomed to using complex passwords with more than 8 digits to encrypt PDFs.
PDF Open Password Vs. Permission Password
Before we get to how we can unlock a PDF whose password we have forgotten, we need to understand the types of password that exists for a PDF. This is important since the method of unlocking a PDF changes depending on the type of password.
For every PDF, there exists 2 types of password:
A open password: A Document Open password, which is also known as a user password, requires a user to type a password to open the PDF.


A permission password. On the other hand, a permission password, which at times is also called the master password, is required when you would want to change permission settings for the PDF. Using the permissions password of the PDF you can restrict printing, editing, and copying content of the PDF.
It should be noted that for a PDF which has a permission password, the recipients will not need a password to open the document in a PDF Reader or Acrobat. However, if they are trying to change the restrictions of a PDF, they would definitely need the permission password to do that.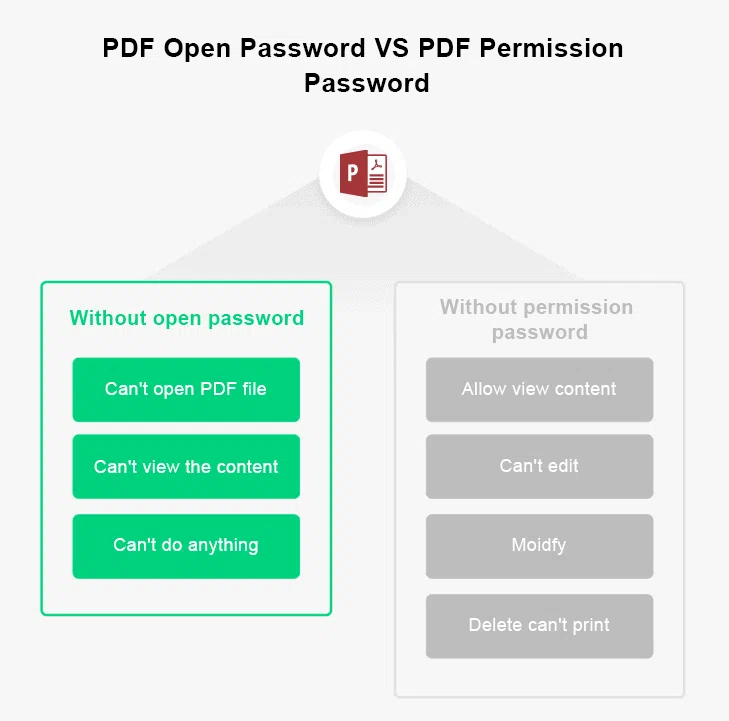 Also, if any PDF has been secured with both a document open password and a permission password, it can be opened with either of these passwords. However, only the permission password allows the user to change the restricted features. Setting both types of passwords is often beneficial as it adds an extra layer of security to the PDF.
83.85% of Uses Choose to Crack PDF Password
So the fact that Adobe encrypts a PDF file with military-level encryption algorithm, which may greatly increase the difficulty of password cracking. So, about 83.85% of users choose to crack PDF password shouldn't come as a surprise. There are a number of ways using which you can crack a PDF on Mac. First, we will look at how we can unlock a PDF on Mac with password if we do remember the respective passwords.
Unlock PDF on Mac with Preview
Step 1. Right click on your encrypted PDF that has been locked with password.
Step 2. Select "Open with" from the right click menu, and then click on "Preview" as shown below.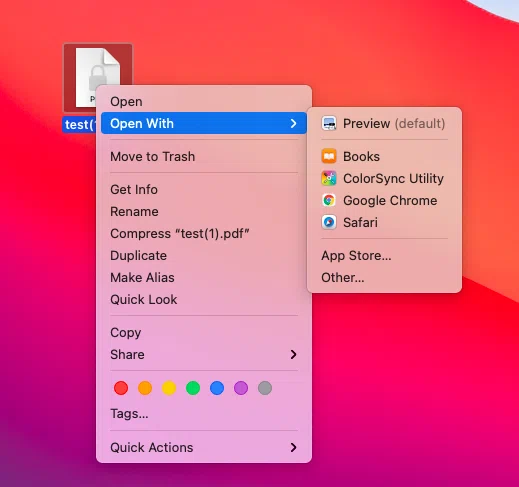 Step 3.Once done, the app will ask you to enter the password before you can view it's content. Please type in the password and hit enter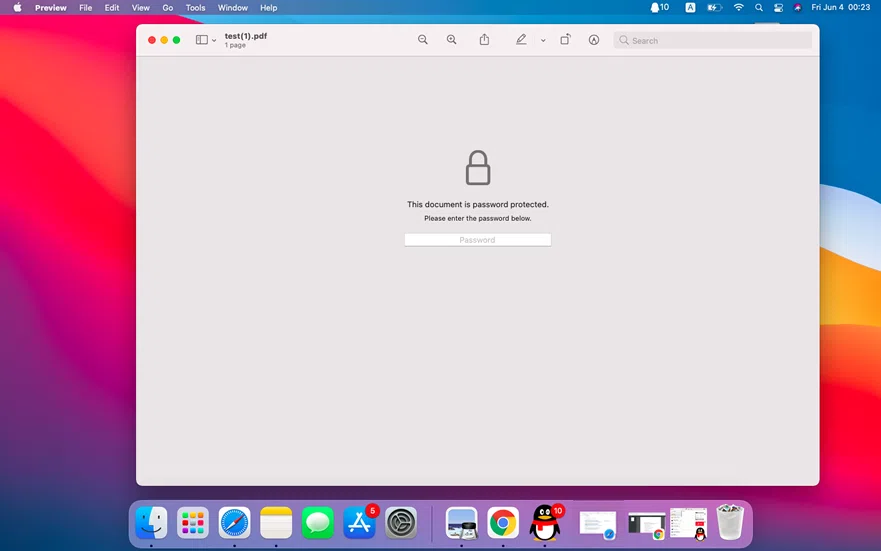 Step 4. If you enter the correct password, you should be able to view the content of the PDF. To remove the password, click on the "File" menu, then click on "Save'". You can also use the shortcut "Command + S". This will let you save the PDF.
Step 5. Select a location to save a password free version of the PDF. Be sure to uncheck the "Encrypt" option as shown below.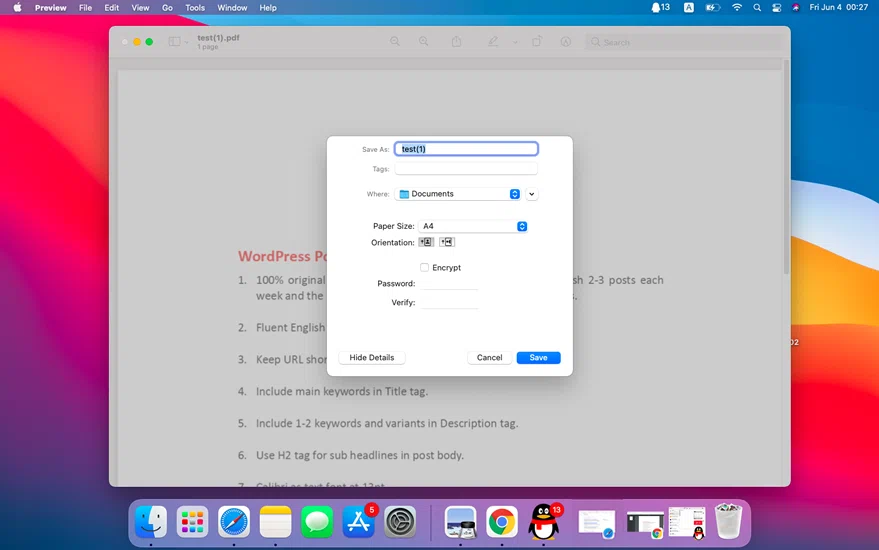 Step 6. Once saved, you should be able to view the PDF, without having to enter any password anymore. Wasn't that simple? Now let's see how we can unlock a password protected PDF using iseePassword Dr. PDF.
Key takeaway: This method only works for the situation where you still remember the password. But in our research found that only 89.2% of the PDF owner remember the password they set.
Unlock PDF File on Mac with Dr.PDF
iSeePassword Dr.PDF is an excellent password recovery tool, which can be able to recover lost PDF Open password through various brute-force attacks, or a dictionary attack . Also it can remove the Owner Password (the so-called Permissions Password) from your PDF document instantly.
It doesn't matter how long ago your PDF document was protected with a password, and no matter how complex the password is, Dr.PDF can quickly recover your lost PDF password without destroying the original data. In our test, for a 8-digit password length, Dr.PDF can search through 5+ billion records within 3 hours, on average, it performs 60,000 searches per second, you may expect a successfully found password with a 91% probability. The search time may vary depending on the specific hardware, PDF version and software configuration. Conversely, it has an average success rate of 99% in deleting permission passwords.
Step 1. Download Dr.PDF from their official website and install it on a Windows or Mac computer.
Step 2. For PDF open password, please choose the "Recover Open Password from PDF" option as shown in the below screen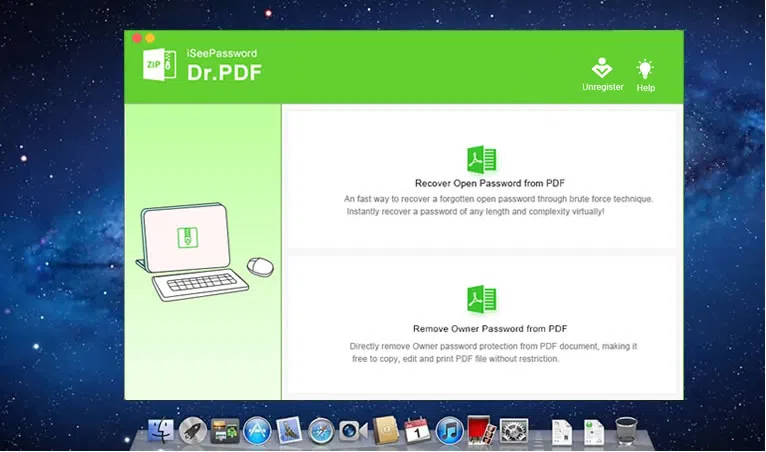 Step 3. Here, add your PDF file and then select the right attack type. Each of these attack types has their own advantage and disadvantage. The best option is the brute-force attack; however, it is very time consuming. So, if you are not in a hurry, I would suggest you to use the brute-force with mask attack option (note that I was in a hurry, so I selected the quickest option i.e., Dictionary Attack)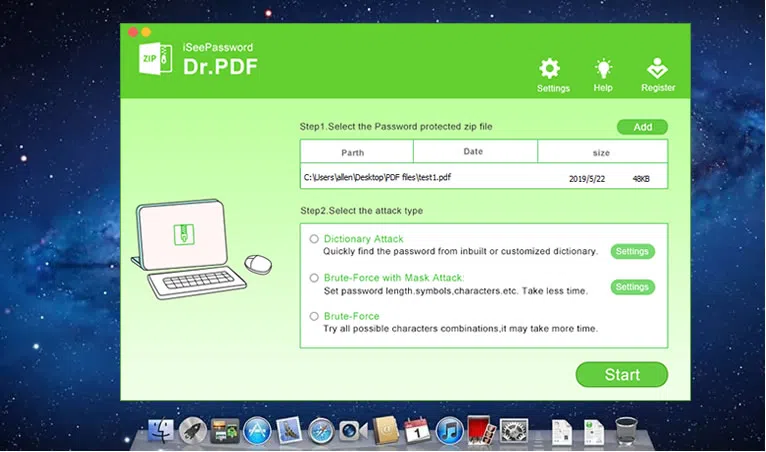 Step 4. Once the attack type has been selected, click on the "Settings" button (in case you have selected either of the first 2 options). This will take you to the below screen, select the required settings as you see deem fit.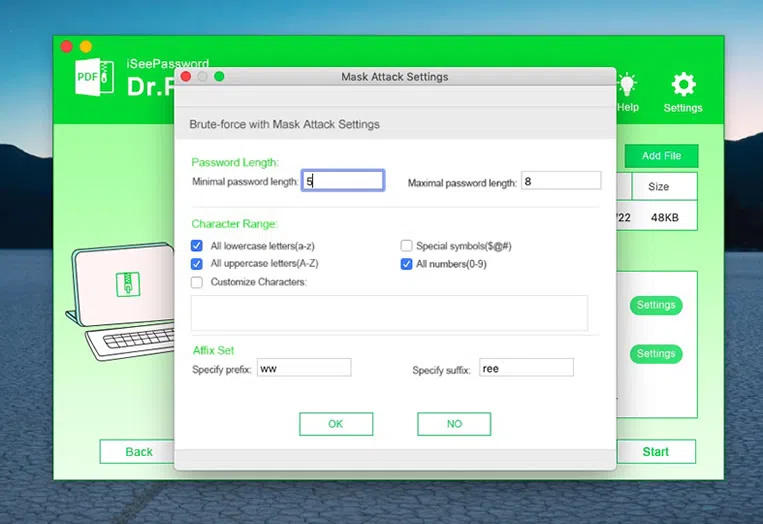 Step 5. Once you click on OK, it will let you select the CPU cores, and GPU acceleration.
Step 6. There you need to click on the "Start" button to start the process. Once the password is found, it will be displayed in the pop-up dialog box, you can use this password to open your PDF file.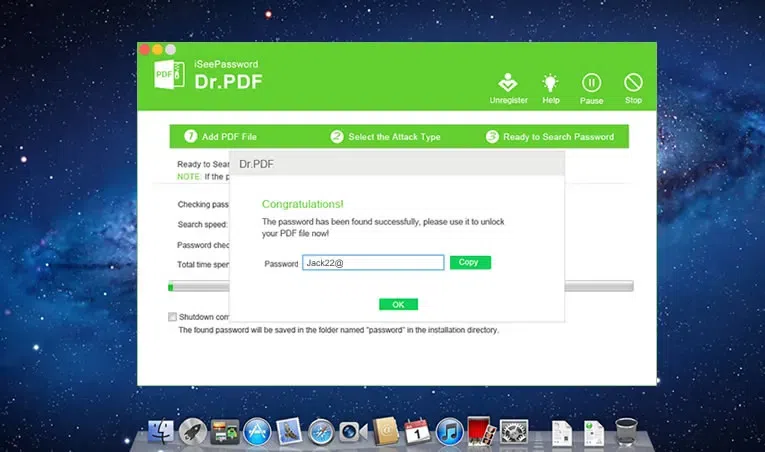 For the PDF Onwer Password. Dr.PDF remove the PDF owner password instead of recovering it.
Step 7. To remove the permission/owner password from the PDF, click on the "Remove Owner Password from PDF" option instead of the first option like we did earlier.
Step 8. Add the PDF by click on the Add File button, then select the option for the Output Folder, this is where your unlocked PDF will be saved. Finally, click on the Start button to start the process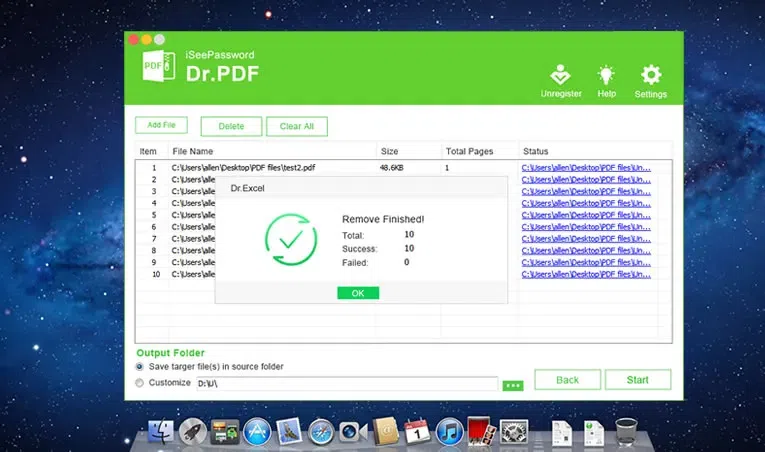 Pros'
Supports all versions of Adobe Acrobat.
Support to crack PDF password with AES-128 and 256 encryption algorithms.
Supports all version of Mac, Windows.
Visual graphical interface, easy to use.
Support GPU acceleration, increase the speed by 30 times.
Cons:
Cannot provide dictionary file download.
It's a paid software.
Unlock PDF on Mac with Google Chrome
Only 8% of people would think of using Google Chrome to crack PDF file on Mac computer, however, this method only works for the PERMISSION password.
Step 1. Unlocking PDFs with passwords on Google Chrome is very simple. First, right click on the password protected PDF, select Open With on the right click menu and click on Google Chrome to open the PDF with Google Chrome. Or you can directly drag your PDF to your Chrome browser.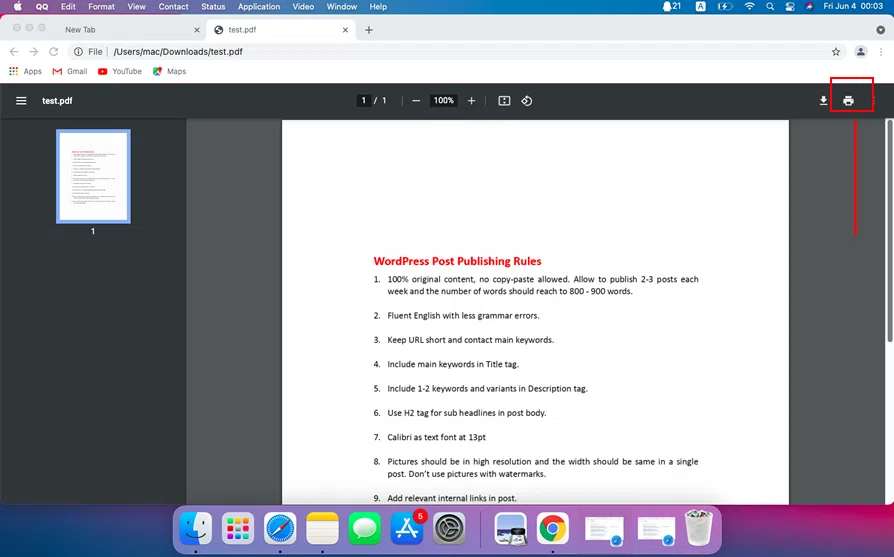 Step 2. When you open the PDF, it will ask you for the password. You'll need to unlock it using the password.
Step 3. Once the PDF is unlocked click on the Print button, or use the shortcut "Command + P".
Step 4. Set the Destination as "Save as PDF", and click on "Save". This will save an unlock version of the PDF.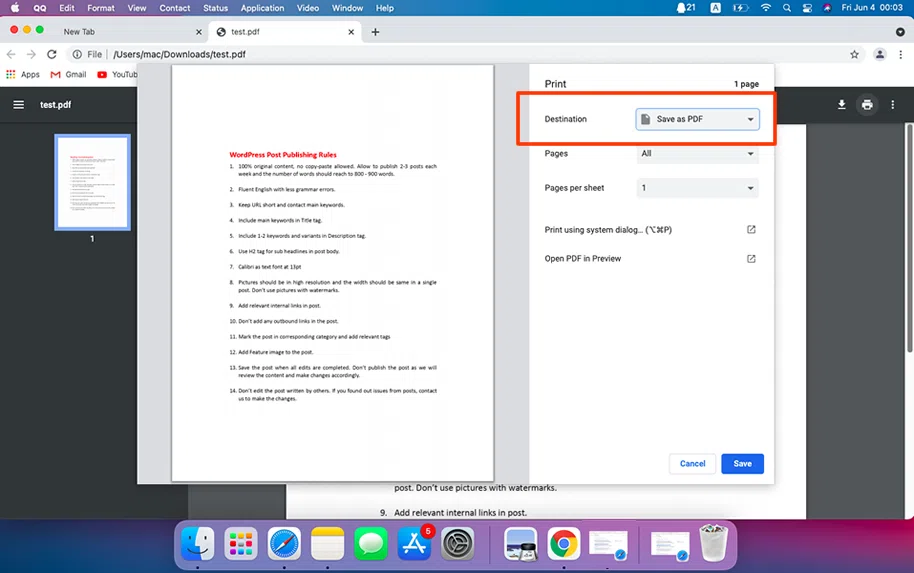 Step 5. From now on when you access this PDF you will not need to enter the password.
NOTE:
If you select "Print" option to crack PDF password rather than Export, the new PDF document will be save as an image format, that means you won't be able to copy or edit the text inside the PDF file. But you're recommended to choose OCR (optical character recognition) software to extract the text you need.
Using Adobe Acrobat
Acrobat is Adobe's official PDF editor program, which can be used to edit, create, convert PDF documents, and decrypt files. But the precondition is that you must know the OPERN or PERMISSION password.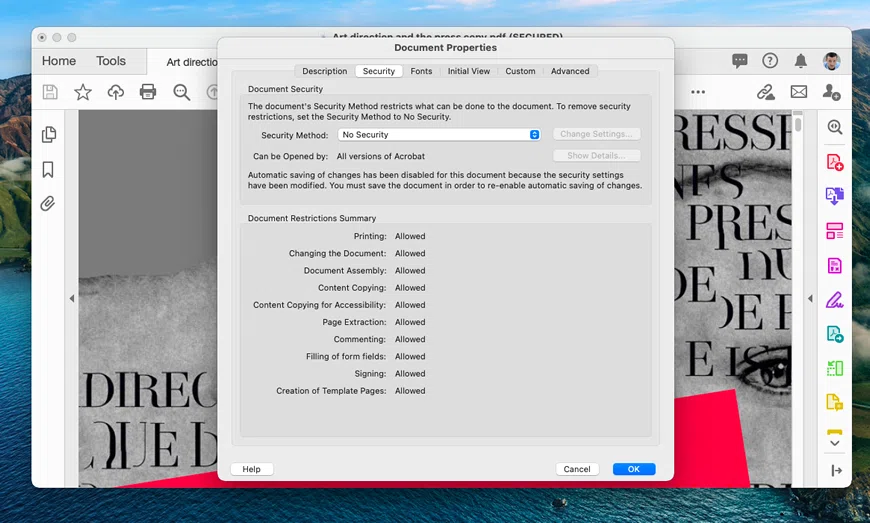 Steps:
First. Drag your password protected PDF file to Adobe Acrobat.
You will be asked the password, type your password to view the content.
Under the File menu, select the Security option.
In the Security tab and then in the Security Method box, leave the password blank and click OK button.
Using QPDF
QPDF is one of the best free password removing tools that can be used to convert PDF file format, encrypt and decrypt PDF files. Although it's free, but it's a command-line program without GUI, maybe it's a little harder for some computer novices. Then, less than 5% of people know this tool. This method is available for any macOS version including Big Sur, Mojave, Catalina, High Sierra, Capitan.
Step 1. Open your Mac and run the Terminal by pressing command+space, then enter the word "Terminal" and press Enter, the Terminal window will open.
Step 2. Now, to install QPDF on your mac, you need to install homebrew first.

Step 3. Then press the Enter key, you may be asked to enter your Mac's users password to continue, just type your password and wait for the command to finish.
Step 4. Start to install the qpdf on your mac.
brew install qpdf
Step 5. Follow the command to create an unencrypted copy a file.
qpdf --decrypt --password=mypassword encrypted_file.pdf nopassword_file.pdf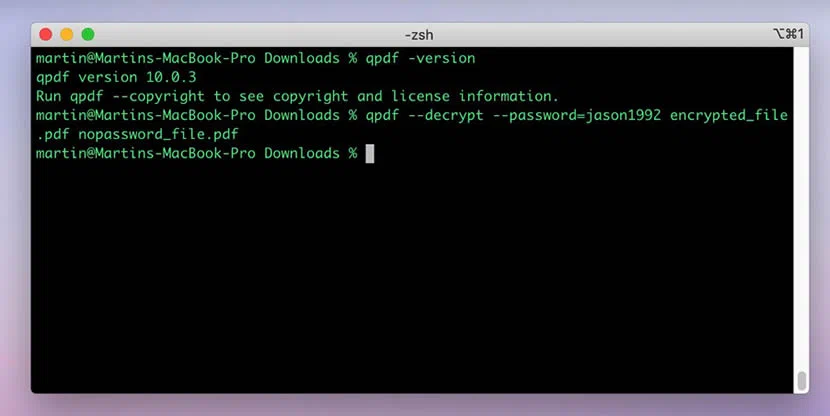 Done! This method will let you remove the password from encrypted_file.pdf file and save it with a name nopassword.pdf.
Unlock PDF on Mac Online
There are a number of online services available online to unlock password protected PDFs. More than 86% of users will choose to recover PDF lost password via online services.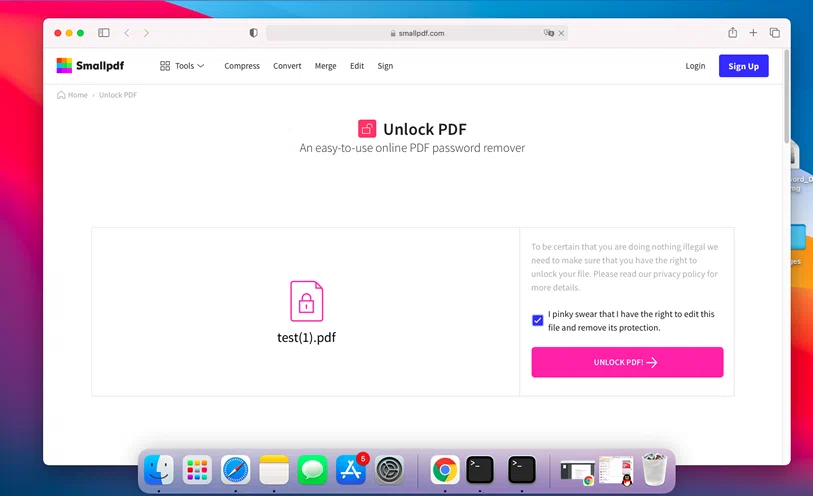 Steps:
Here we take samllpdf.com as an example, go to their official site.
Here you need to upload your password protected PDF using the "Choose File" button as shown below. You can also drag-and-drop your file.
click on "Unlock PDF" button
Once done, you can either download the unlocked PDF, save it on your Google Drive, or share it any of the options as shown below.
NOTE:
However, if you have a PDF which contains sensitive information, uploading PDF with the sensitive information on a third-party website may not be the best and secure option.
Comparison of The Success Rate of Various Methods
The following is an intuitive table that integrates all aspects of test data, users can see the success rate of each method at a glance.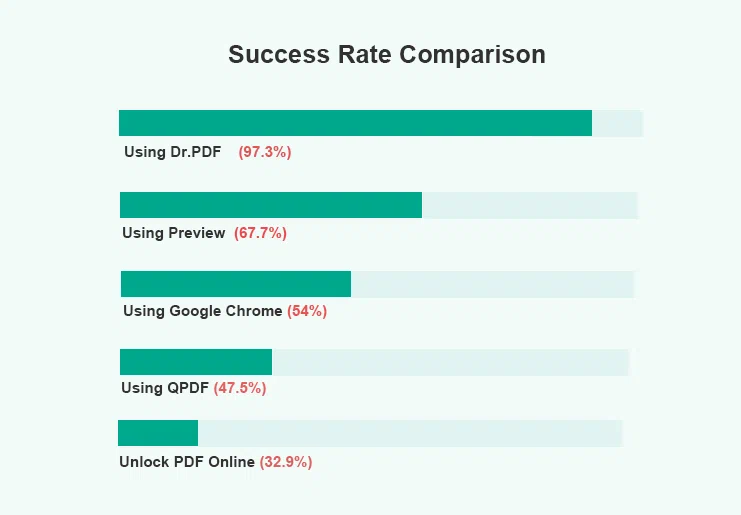 Unlock PDF using Dr.PDF (97.3%)
Remove PDF Owner password via Preview (67.7%)
Remove Permission Password via Chrome (54%)
Crack PDF OPEN password via QPDF (47.5%)
Unlock PDF online (32.9%)
Conclusion
I hope you found this analysis of the PDF password cracking interesting and useful. So, considering the disadvantages as listed above, iSeePassword's Dr. PDF is the best option to unlock a PDF on a Mac and windows whatever it is the OPEN password or the PERMISSION password.