Have you ever got facilities of mounting, editing, burning, compressing, creating, converting disk images all in one using one particular software for operating systems to reinstall or to run. PowerISO is one such choice.
What's PowerISO?
It is generally utilized for creating bootable disks by burning disk images into CD/DVD/USB. It also supports many world-known standard disk image formats, for instance, BIN, DMG, CDI, IMG, DAA, NRG, etc. Not only that, it can burn video and audio files as well of various commonly known and less known formats both, like MP3, MP4, WMA, APE FLAC, BIN files, etc. The software finds compatibility with all Windows OS, including Linux, and macOS supporting both 32 and 64-bit OS.
Since the tool supports features like drag and drop, clipboard copy paste, shell integration to integrate software into the OS, context menu, and so on, it finds endorsements from various computer experts.
What Problems You Encounter When Using PowerISO?
So, relying on the tool for OS or software disk images to work undoubtedly makes sense. But, there are issues you may encounter. According to certain tech complaint forums, users have reported it as a failure while burning a game file into a disk, and even ISO files to certain extents. They encountered incessant pop-ups like "Media detection failed, on no media in the drive or poweriso not showing usb " with some complicated names which starts with E://.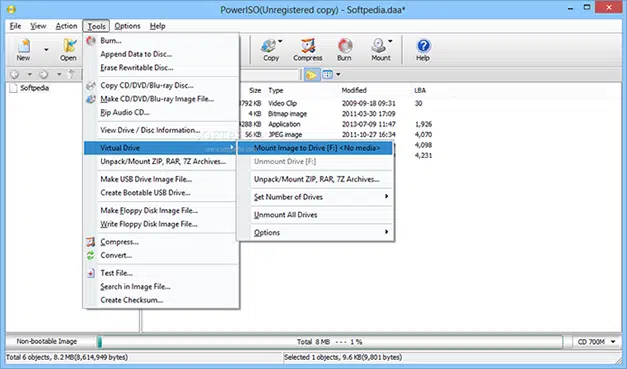 Basically, it finds difficulty to read or to recognize the disk inserted into the system drive. On many cases, users get into troubles even installing the software. While launching the software for a specific task, notifications like "Not successfully installed/ certain installation files missing" are also encountered. What's more, there are many other issues when using PowerISO: poweriso can't open the following partition or poweriso can't mount. Reasons are yet unknown for such impediments. But surely you would require a lot of legwork if your disk is not read by the software.
Is There Any Alternatives to PowerISO?
This very question may arise in time, and the article here is all about explaining you the alternatives to PowerISO.
The first alternative to PowerISO should be WonderISO. One particular advantage of this tool over PowerISO and any other disk image burning tools is that it can burn multiple files and can handle multiple settings at the same time. It is a standalone utility which can burn, extract, create and Edit ISO images. It has also got an affinity towards all Windows OS editions, both desktop and server- XP/ Vista/ 7/ 8/ 10/ server 2008/ 2012/ 2016, etc. The tool supports both UEFI based computers which utilizes GUID partition table (GPT) and conventional BIOS which uses Master Boot Record (MBR). So, you see, the tool finds application on old and new both brand of computers and laptops. And that's a relief in case you own an old machine. Whether you have CD/DVD/ thumb flash drive, the tool can use any of the media type to create bootable disks.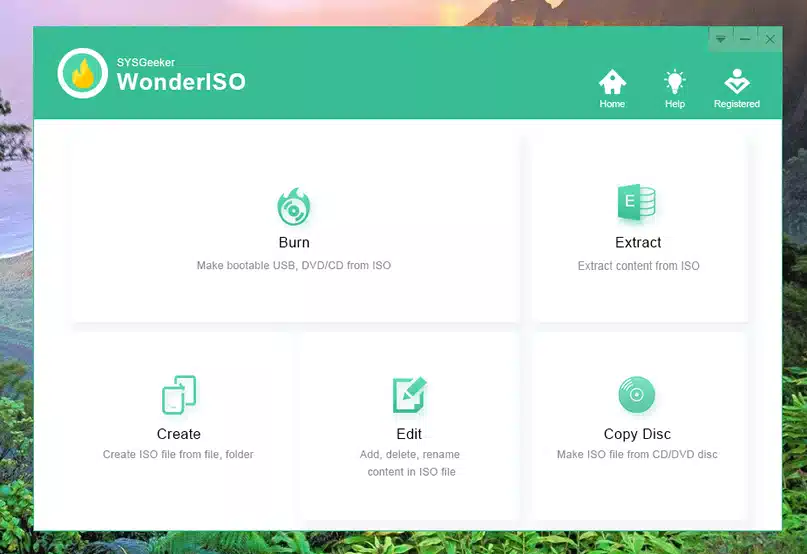 The overall GUI is good and it comes handy with a 100% success rate. It is well worth a try.
Don't miss: How to Burn ISO to USB on Windows PC using WonderISO
Top 2. Alcohol 120%
The second alternative to PowerISO should be Alcohol 120%. It's a powerful and easy-to-use virtual disc burning software which allows users to backup your CD/ DVD data into your computer storage apart from just regular burning software tasks. It supports mds, iso, bwt, b5t, b6t, ccd, isz, cue, cdi, pdi and nrg and other disc images, and can burn original disc files completely and losslessly. It finds compatibility with Windows OS, ranging from XP to Windows 10. It is a good alternative to PowerISO and finds various applications in day to day life. Alcohol 120 program can be able to write ISO image to disc from hard drive. Regular users can create backup of their CDs and DVDs from kid's rough usage, without destroying data value; professionals can burn software to create duplicate backup disk images.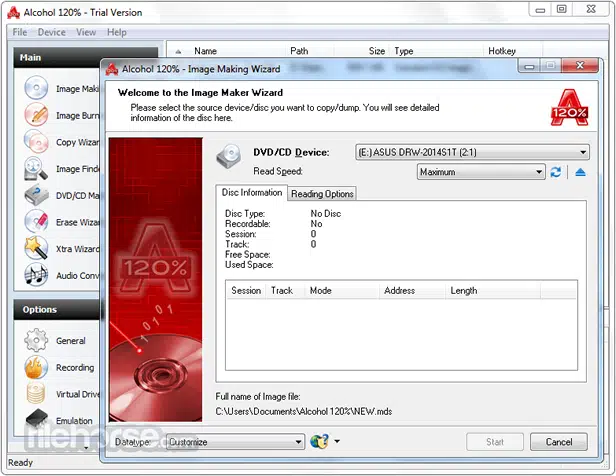 It is available both as trial and pro version. We used trial version to test its performance. When I'm attempting to burn Win 7 ISO to a DVD disc, i didn't find DVD drive from the list (only cd at this point). I don't know why?
Top 3. WinCDEmu
It is an open source program being licensed under LGPL, so no purchasing conundrums. In addition to supporting Windows OS versions from XP to 10 for both 32 and 64-bit versions, it supports unlimited amount of virtual drives also. The tool can create ISO images on Windows using context menu in explorer. It supports BD and DVD video images. Not restricted to UEFI only, it is operational with MBR or legacy BIOS based computers also. The program is quite handy to use since it is smaller in size- 2 MB. Such features are not usually available with PowerISO.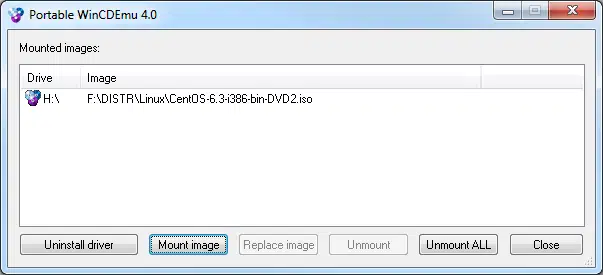 Top 4. ISOburn
ISOBurn is a small tool especially designed to be used in burning ISO files, it can be directly launched without installation and the overall size is less than 400KB, which especially suitable for carrying? It can directly burn your ISO and CD/DVD image file to CD-R,CD-RW, DVD-R, DVD-RW, DVD+R, DVD+RW,HD DVD and Blu-ray Disc, it can be able to directly write the ISO data based on ISO 9660 standard, it's free for individuals. If wonderiso doesn't work then you can consider ISOburn as a fourth alternative to WonderISO.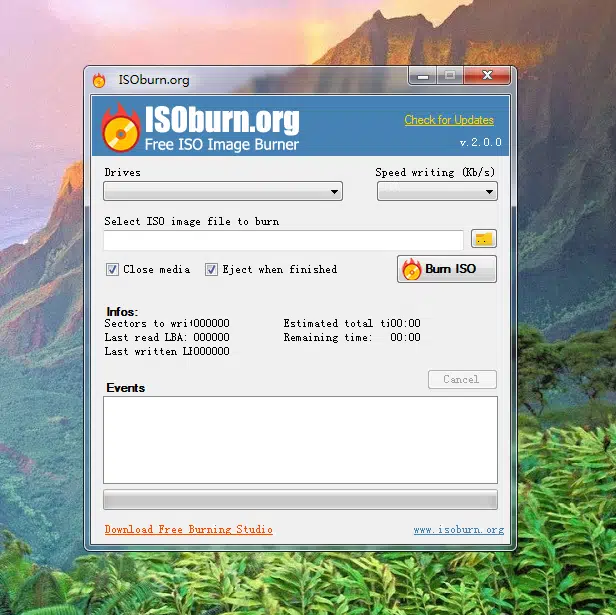 Top 5. UltraISO
The fifth alternative to PowerISO should be UltraISO, which is powerful and convenient tool for burning, making, editing and converting ISO image files. It was also known as one of the most intelligent ISO analyzer because it can process almost all image files like .ISO, .BIN, .IMG, .CIF, .NRG, .MDS, .CCD, .BWI, .ISZ, .DMG, .DAA, UIF,etc., Burning and editing are the core functions of UltraISO. With the exception of burning ISO, it's capable of editing ISO image files and extract any content from an ISO image instantly and effortlessly, at the same time. it also can make any CD bootable by writing boot information of the ISO file. There are rich add-on tools which worth your try.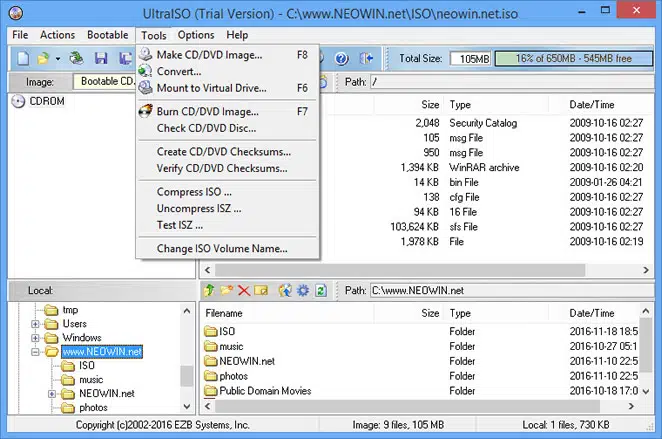 Top 6. CDBurnerXP
Cdburnerxp is a totally free burning program that can be used to burn and creating ISO or erase CD-RW rewritable discs. Apart of this features, it also can burn music cds, grab audio tracks. Moreover, it supports burning CDs, DVDs and Blu-ary. Everyone, even companies, can use it for free. Its current version 1.0.0.5 has been updated recently. So, no bugs or unprecedented glitch encounters are expected hopefully. The total size of the software is less than 5 MB, you can easily get it from its official site, but it's only available for Windows users. Similarly, if WonderISO doesn't work for you then Cdburnerxp tool should also be an alternative to PowerISO.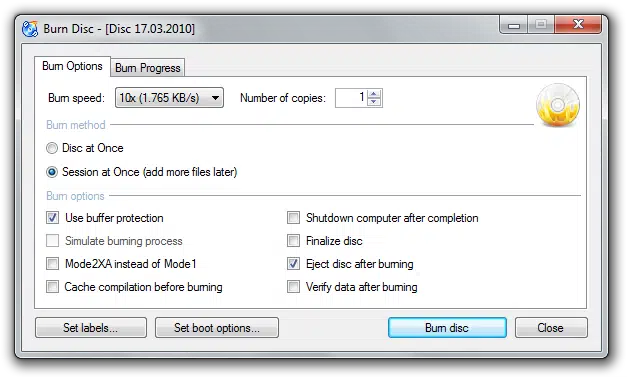 Conclusion
You can get all the above-mentioned tools easily on any software sharing websites, but Not only these, there are certainly more PowerISO alternative software out there like rufus, UnetBootin and more. Try them, and find out manually to know the differences in their interface quality and upgrade facilities. You can also install and try them separately on different machines to check their functionalities provided you have that many machines in your possession.