In order to enhance data security, most people, especially for the enterprise users tend to protect their sensitive data with BitLocker, that's because BitLocker encrypts data with military-grade encryption algorithm, which makes everyone else can't decrypt your BitLocker drive without password or recovery key. However, it also raises new question that you can't open BitLocker drive on Mac.
So, as a BitLoker user, have you ever come across a issue that when you try to connect your BitLocker-encrypted USB drive to your Mac, you may get warning prompt saying "The disk you inserted was not readable by this computer", Why is it You can't access to your USB drive to get the data you need even you have the password. Today, we're going to cover multiple ways to show you how to open and unlock BitLocker-Encrypted USB drive on Mac OS.
Does BitLocker work on Mac
In fact, BitLocker is only available on Windows computer and not supported on a Mac OS due to the difference of file system, so, you'll find that you couldn't open, read and write a BitLocker drive on a Mac computer. And until now, neither Apple nor Microsoft provide a way to unlock a Bitlocker encrypted drive on macOS.
You can actually see the BitLocker-encrypted USB drive is already detected successfully, but you will not be able to mount it manually, you know that accessing to a unmounted drive is denied by the macOS. That also means that you're unable to copy, move, open or view files between USB drive and macOS.

Unlock and Open BitLocker USB Drive on Mac with BitLocker Reader
Although there is no official way to unlock BitLocker-encrypted drive on macOS, but some of third-party tools may be a viable option. SYSGeeker BitLocker Reader for Mac is such tool that turns out to be a unique way to bridge the generation gap. Cross-platform algorithm makes it possible to open, read, write and mount BitLocker USB drive on a Mac computer without formatting and damaging data. It supports all portable devices like external hard drives, USB flash drives, and SD cards, and also supports NTFS, exFAT or FAT32 file systems.

Open, read, write and mount BitLocker USB drive straightforwardly.
Compatible with all devices including External hard drive, USB flash, SSD, SD.
Supports macOS 10.11 - 11.5, including macOS Big Sur M1..
Support decrypting your drive with password and recovery key on Mac.
Steps to Open and Unlock BitLocker USB Drive on macOS Catalina or Mojave.
Step 1. As this is a desktop software, so you need to first download and install it on your Mac computer. After installation, open it. If it failed to launch, try to add the app to Full Disk Access in the Security & Privacy, this may happen on mac OS 10.15 or later.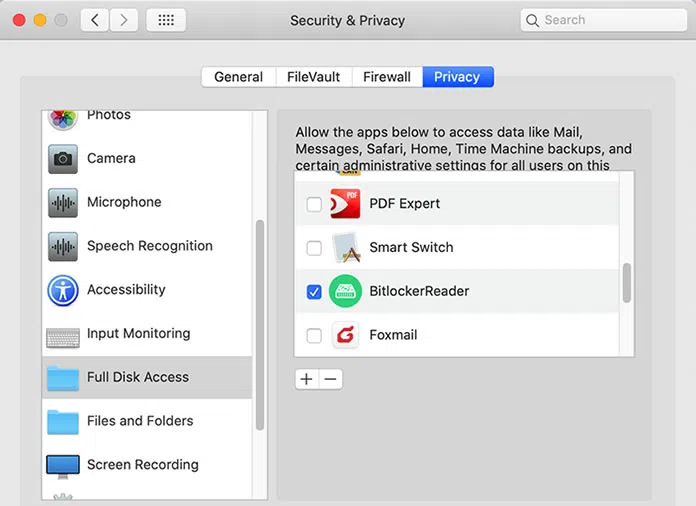 Step 2. Then connect your USB flash drive or external hard drive to your Mac computer. There will be a warning Window appears after you connected USB drive to Mac, just click Ignore to dismiss it.

Then the program should recognize your USB drive in a list with a lock icon marked on. And "waiting for mount" appears at the bottom of the drive.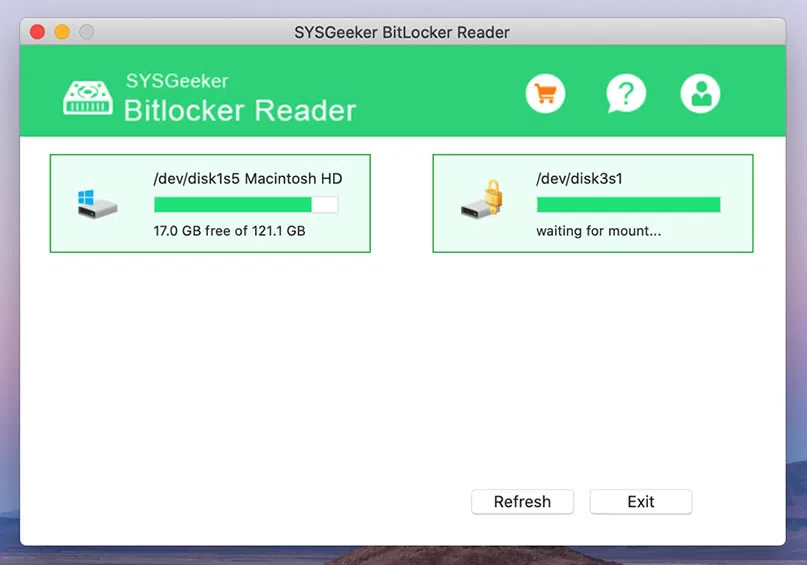 Step 3. Select your BitLocker-encrypted drive and right click to select the mount option. Then you will be asked to enter both password or recovery key to mount your drive.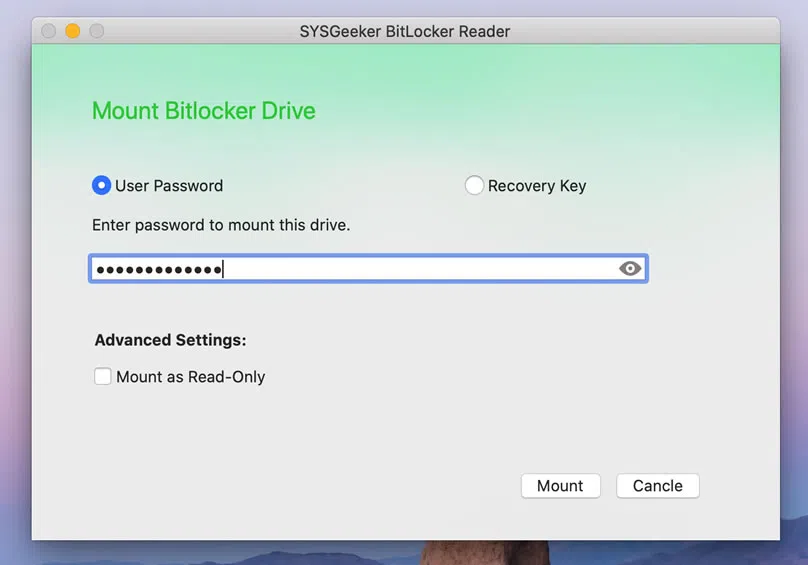 Once the password or recovery key typed correctly, then click Mount button and your USB drive will be open immediately in a new Window, which all of your data inside of your USB drive will appear. You can now copy, move, paste the files and folders between USB drive and your Mac.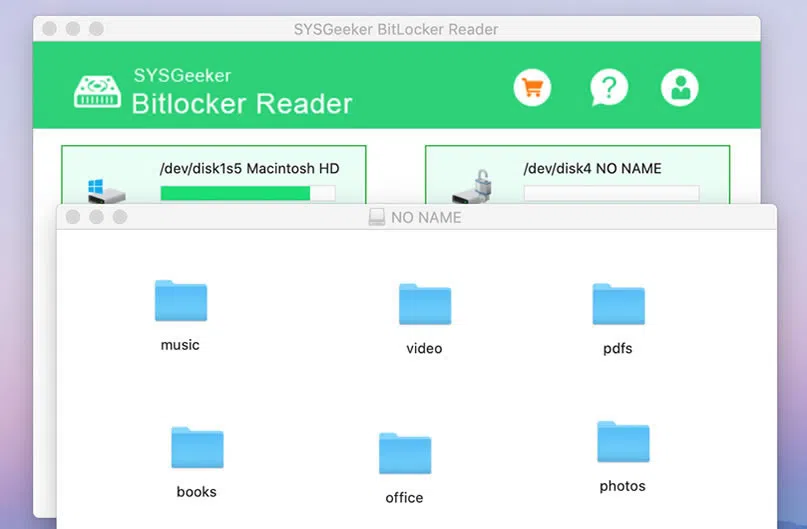 As you can see, it's so easy to help you unlock and open BitLocker-encrypted drive on a Mac , which will never at the expense of your data. You can download the trail and give it a try!
Open BitLocker USB Drive using Virtualbox
Another way to unlock BitLocker on mac is by using VirtualBox (Parallel or Vmware) as the data delivery tool, which can attach your BitLocker drive in a virtualBox. So, we suggest you to install a Windows 10 OS on using VirtualBox in your local Mac device, you can run some applications you would otherwise not have access to, such as open BitLocker-encrypted USB drive on VirtualBox.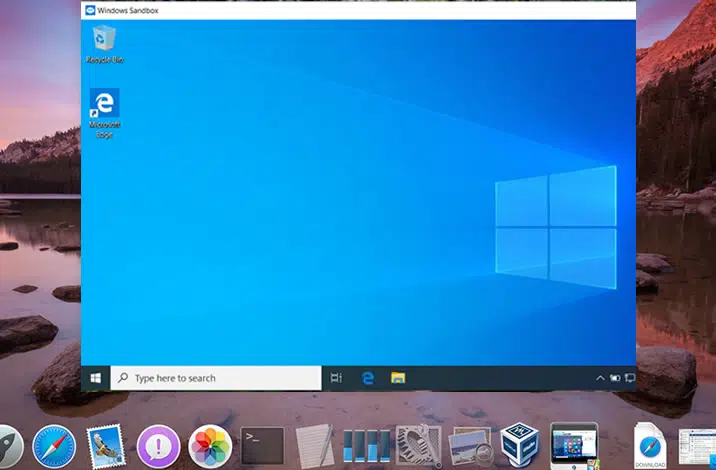 Step 1. Supposed that you have installed Windows 10 using parallel or Vmware on your Mac computer, then launch it!
Step 2. You may find that your BitLocker USB 3.0 may not be identified under VirtualBox on Mac, that's because your system lacks of VirtualBox Extension Pack, so you need to enable USB 2.0EHCI from the settings in virtual.
Step 3. Then connect your USB drive to your Mac device, By default, your USB flash drive will be recognized by your Mac OS rather than Windows in VirtualBox, this happened because only local OS could be able to recognize your USB drive at a time, so, you need to click to eject your USB drive from your Mac OS, then VirtualBox will automatically recognize your USB drive, namely you can see your USB in the Windows OS.
Step 4. Once your USB drive is recognized by Windows OS in virtualbox, then you can unlock your BitLocker drive with BitLocker To Go application built-in Windows 10, then you're free to copy, move, transfer and delete any files, folders in your USB flash drive. You can also transfer files, folders in USB flash drive between VirtualBox and macOS.
Access BitLocker USB Drive on Mac using Dual Boot
As is known to everyone, there are lots of programs and softwares only can be run on Windows platform rather than Mac, especially for the professional software like the BitBlocker To Go, that's because they're the two different operating system and also incompatible with each other. In fact, you can build such a bridge that allows you to jump back and forth from one OS to another on the same Mac computer, it's Dual Boot. NOTE: this is not the VirtualBox, it's a real system that can be run on your Mac without VirtualBox.
Once you've installed a Windows 10 OS on your Mac, then you can seamlessly transfer files between these two operating systems, allowing you to access to BitLocker-encrypted USB drive for free. We can sue the Apple's built-in Boot Camp Assistant to install Windows OS on a Mac.
Check the system requirements
You will need to make sure your Mac has the enough disk space and hardware requirements to install Windows 10, that's because some of macOS is compatible with the version of Windows you want to install. For instance, Windows 10 is supported on these models:
MacBook C 2015 or newer
MacBook Air C 2012 or newer
MacBook Pro C 2012 or newer
Mac mini C 2012 or newer
iMac C 2012 or newer
iMac Pro C all models
Mac Pro C 2013 or newer
Steps to Install Windows 10 on Mac
Step 1. The first thing we need is a Windows disc image file, or ISO and the product key to activate your Windows.
Step 2. Open the Boot Camp Assistant. Go to Applications > Utilities folder, then click the Continue button to launch Boot Camp on your Mac.
Step 3. Click "Choose" button to load your Window 10 ISO file.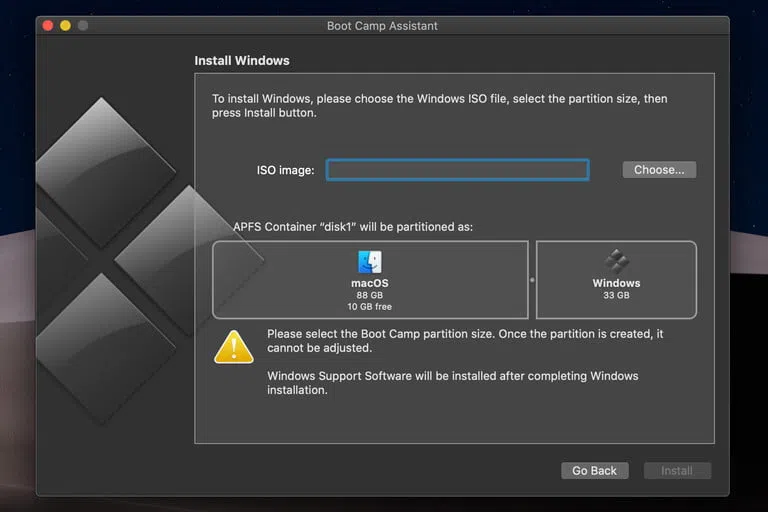 Step 4. Make sure you've enabled enough Windows partition size, you need at least 64GB, while Apple recommends 128GB.
Step 5. Now, click install button to start the task. BootCamp now start to create the Windows partition and download the Windows drivers. You will be asked where you want to install Windows on Just select the BOOTCAMP partition and then click Format.
Step 6. Type your admin password, and click OK. The Windows installation screen will appear, then you can complete the installation steps by steps.
Step 7. You need to keep your Windows 10 download and install something it needs. This will take a while.
Step 8. Restart your Mac and your Mac will still boot into macOS by default. To switch to Windows, restart your Mac while holding the Option (Alt) key. You will be asked from which drive you'd like to boot.
Step 9. After you boot to Windows 10 OS on your Mac, then you can insert your BitLocker-encrypted USB flash drive to your Mac and unlock and open it with BitLocker application.
You know the encrypted Bitlocker USB flash drive only works in Windows OS, and so far, both Microsoft and Apple do not provide any official ways to open BitLocker drive on Mac. If you want to access, unlock or open BitLocker drive on Mac then you can follow the steps above to ccomplish your aim. In our teset, SYSGeeeker BitLocker Reader for mac should be one of the most effective ways of opening and unlocking BitLocker drive on Mac without losing data as it's easy, fast and safe! Alternatively, you can borrow a Windows computer to turn off the BItLocker on your USB flash drive and connect to your Mac again. Also try to copy your original data to an uncrypted USB drive or send your data to your personal email-account and cloud that you can access from your Mac, which surely works today in an emergency.